Make your fur baby as comfortable as you are is one part of your interior design and plan. If you're looking for a pet bed that's just as unique as your furry friend, these 30+ Brilliant Pet Bed DIY Ideas with Tutorials are just for you .Yes most of the pet beds that you are able to find in the pet stores, but they are usually made out of plastic and have a very common design. While you can make your unique pet bed to fit with the style of the interior design of your home. Most of these 30+ pet beds made from recycled materials, such as old sweater, pallet, Suitcase,wine barrel, Cabinet ….So you don't have to sacrifice style when you opt for eco-friendly comfort. Let's check out them all:
[nextpage title="Page 1″ ]
Sweater Pet Bed: Tutorial
via Casa Abril.
Magical 3-in-1 Cat Bed Tutorial here.
Beautiful Padded Pet Bed: Click Here for the Translated Tutorial
Super Easy NO SEW Dog Bed: Tutorial by Luigi and Me
Sweater dog bed: Tutorial Via Lightintheboxblog
turn your old jeans into this comfy Pillow for your pet. It's very easy to make , you just need to add some stuffing and a belt. Source here
Soft Padded Frog Bed: DIY Soft Pillow Bed Tutorial Here.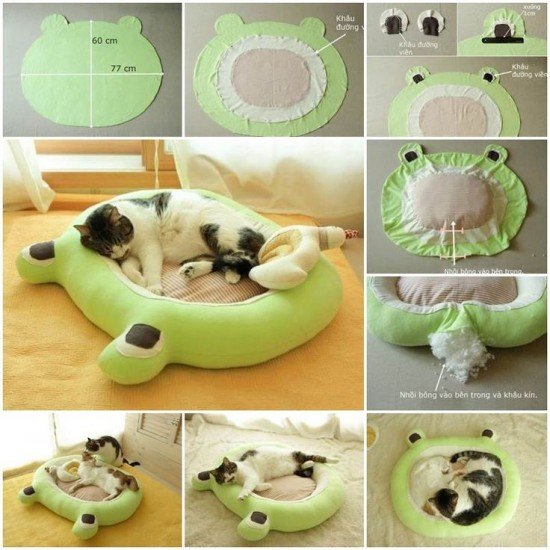 [/nextpage][nextpage title="Page 2″ ]
DIY couch pet bed , It's well padded and very comfortable, tutorial Here for the English Translated Version
Recycled Sweater Pet Bed: Tutorial Here.
Crochet Pet Pouf Bed: Free Crochet Pattern.
Crochet Cat Cave: Crochet Cat Cave FREE Pattern (1)| Crochet Cat Cave FREE Pattern (2)
DIY Tire Pet Bed : Tutorial Here.
Recycle baby bassinet into an absolutely adorable and unique pet bed!!! Works well for both cats and small dogs! Tutorial via Tee Diddly Dee
Turn an old side unit into a beautiful Pet Station: Tutorial via Casadiez.
[/nextpage][nextpage title="Page 3″]
Recycled TV Stand Pet Bed: Tutorial from Recycled Rover & Tutorial from Imgur.
Fantastic pallet bed via 101 Pallets.
Adorable crate bed via The DIY Adventures: Make a crate bed tutorial
Upcycled Dresser Drawerr Pet Bed: Tutorial via DIY Show Off
Suitcase Pet Bed via My So Called Crafty Life: Tutorial Here.
Turn a wine barrel into a cozy pet bed: Tutorial from Atoon Food .
Cabinet pet bed, no tutorials for this, but it's easy to craft after.
End table pet bed: Here is this End Table Kennel tutorial
Doggy bunkbeds made out of pallets via Pallet 101 here.
[/nextpage][nextpage title="Page 4″ ]
Murphy Bed: Tutorial Here
Or Make it Into Home decoration: via Murphys Paw Design
Little end table doggie bed: Tutorial via DIY Network
DIY Royal Pet Bed from End Table/Nightstand VIA : Junk Camp – Royal Kitty Cat Bed Tutoiral
Cat Pet Station from Upcycled Dresser: Tutorial via Addicted 2 Decorating
Minimalist Pine Crafted Dog Bed: Tutorial by 101 Woonideeen
Modern Wood Ped Bed via Centsational Girl:Tutorial for Modern Pet Bed
Pet Bed With Stairs is the perfect spot for your pampered pooch to catch some shut eye and still feel safe and secure near you: Tutorial via instructables.
[/nextpage]