DIY Covered Greenhouse Raised Garden Bed to make it easier to keep plants warm and grow in cold and easier access for you to plant and harvest. Nothing beats fresh herbs and vegetables you grow in your own garden! Green house is always needed where you are in cold weather zone or drought area. We do have some green house free plans you may love, too. If you are looking for something distinctive and practical to add to your garden or lawn, it is definitely one of the best choice!  This covered raised garden is a perfect DIY solution that can help you a lot with your gardening.  It will give your herbs and veggies the best opportunity to grow in the early Spring. The building process is fairly simple and the materials needed are easy to find, too. I also shared some fun garden planters as the DIY Tree Stump Planters Tutorials; DIY Fun Recycled Jean Planter Tutorials which can make your garden and yard more appealing in your neighbourhood.
You may love: DIY Greenhouse Tutorial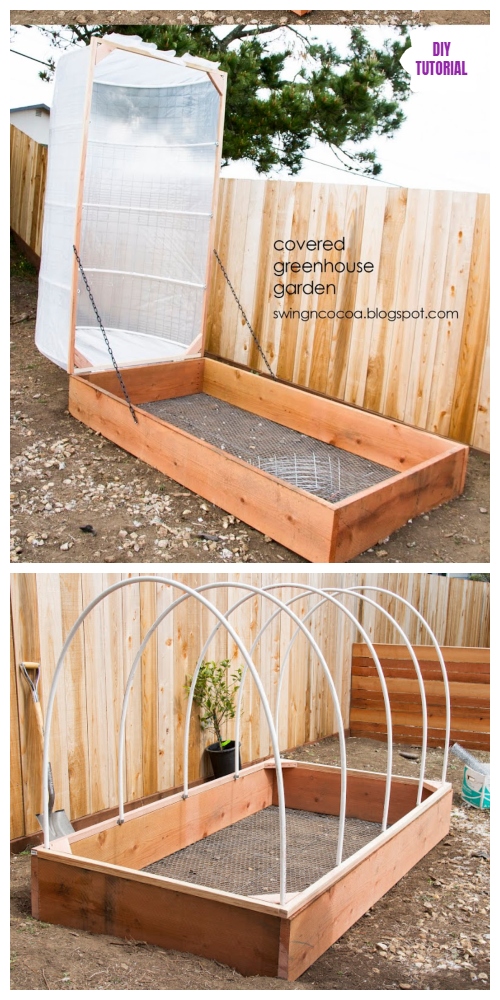 Get the full tutorial via Swing 'N Cocoa below:
The green house from recycled plastic bottles are way cool and constructive for gardening too.