21. Tissue Paper Wreath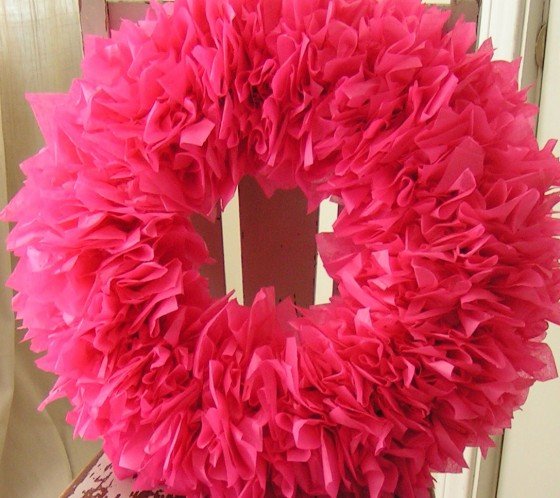 This tissue paper Valentines' wreath looks rich and fabulous for door decor.
(Tutorial: ablissfulnest.com)
22. Curly Grosgrain Ribbon Wreath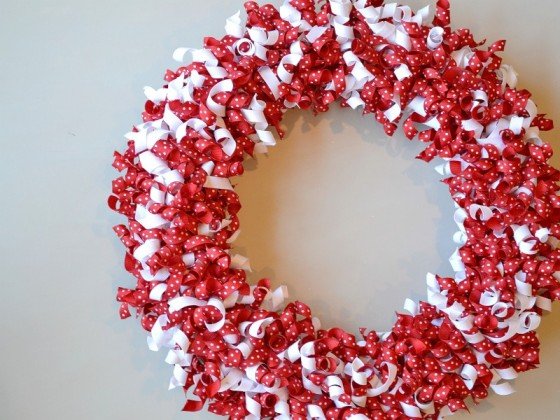 The lovely curly grosgrain ribbon used on this wreath were baked. Want to see the tricks? (Tutorial: nikkiinstitches.com)

Part II – Heart Wreath
Before start, let's make a heart wreath foam from hangers first. Or you can buy directly from Amazon
.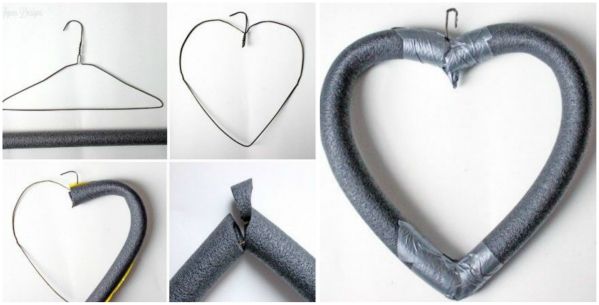 1. cardboard & yarn wreath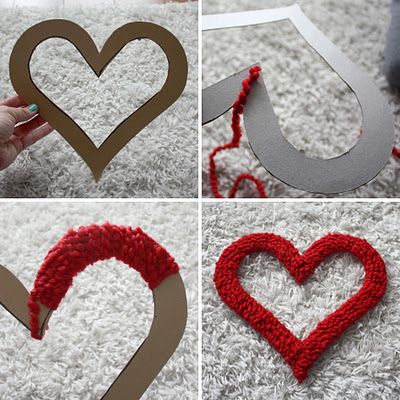 This would be cute for letters and monograms as wreath base, too. There is another tutorial available from amycornwell.blogspot.com.
2. Ruffled Heart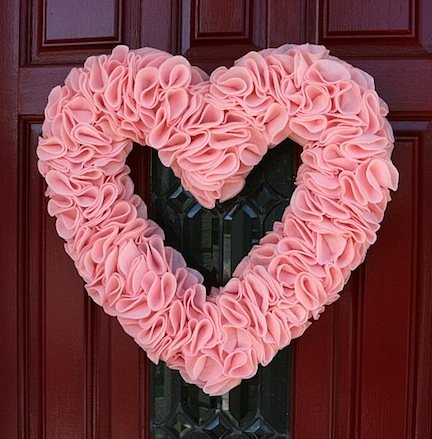 bunch of felt circles to create buds on a heart wreath form. (Tutorial: Party Wishes)
3. Flower Heart Wreath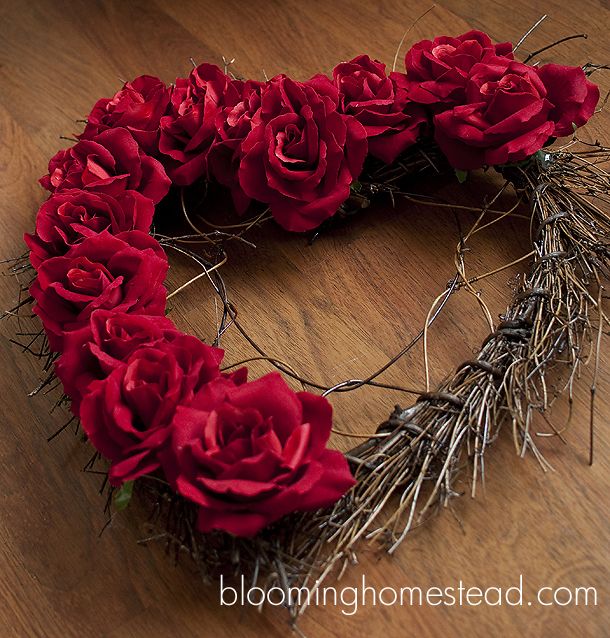 Cut fresh or artificial rose flowers and glue onto wood wreath base. (Tutorial: bloominghomestead.com)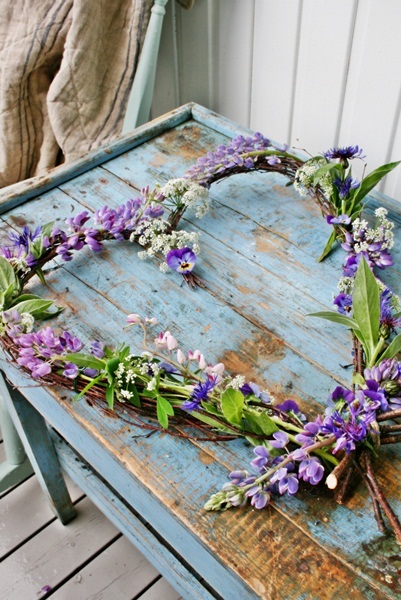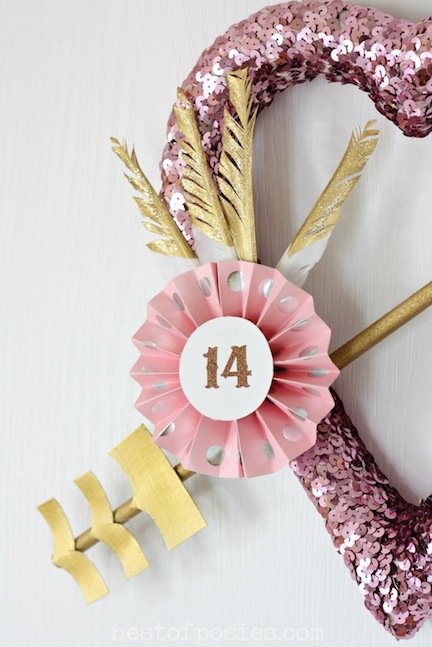 beautiful pink sequins and gold dipped feather to create this pretty wreath.
(Tutorial: Nest of Posies)
6. Yarn Heart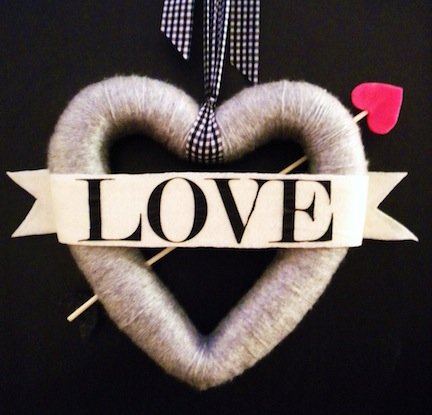 Use a yarn covered straw wreath to make this cute and simple Valentine's wreath. (Tutorial: Tatertots & Jello)
7. Ruffled Satin Valentine's Day Wreath (Tutorial: MyBlessedLife.net)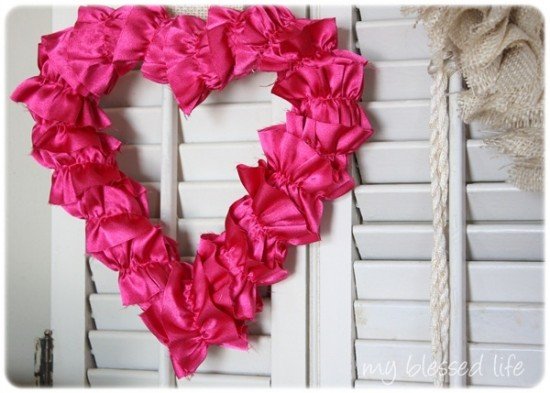 8. Scrap paper heart wreath (Tutorial: sweetandsimpleliving.com)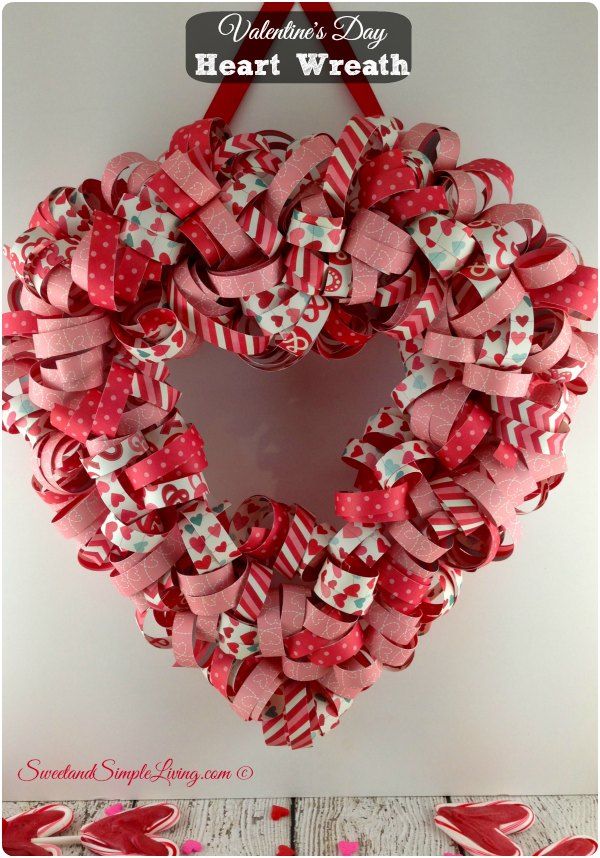 9. Shabby Chic Heart – Shaped Ornament Wreath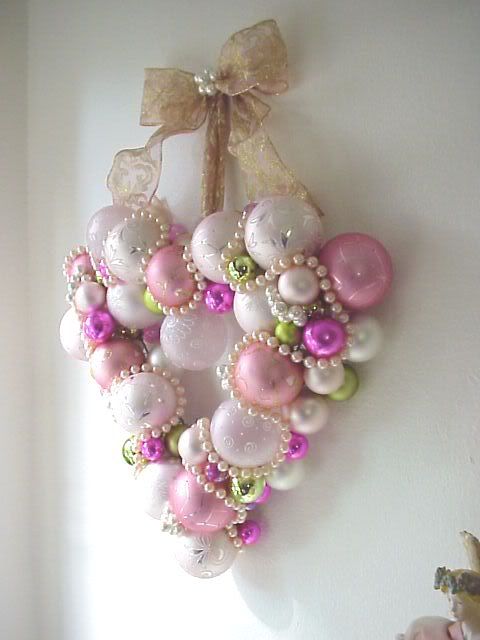 Ornament Wreath with pearls that is perfect for any season. (Tutorial: enchantedrosestudio.blogspot)
10. Christmas Ball Ornament Wreath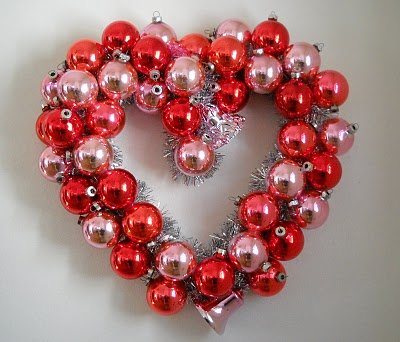 leftover Christmas balls in Valentine's Day colors to create this cute wreath. (Tutorial: Dime Store Thrift)
11. Wooden heart wreath tutorial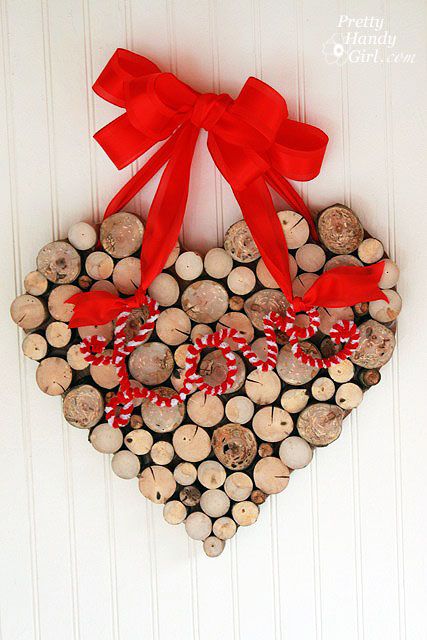 12. Succulent Heart Wreath (Tutorial: Succulent heart wreath)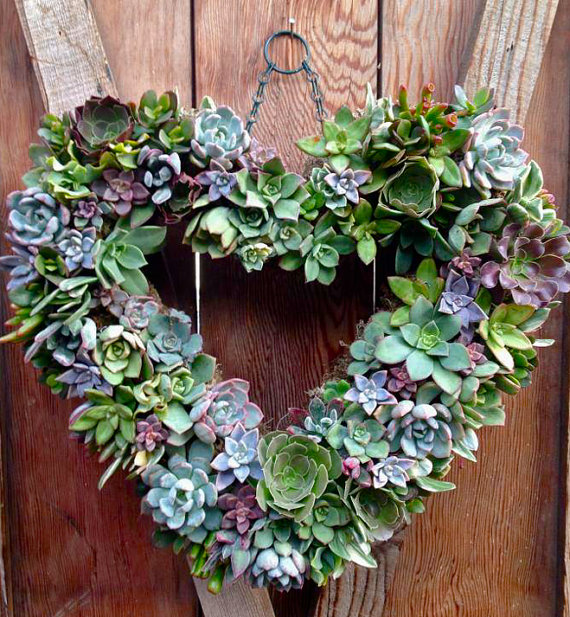 13. Garland Heart Wreath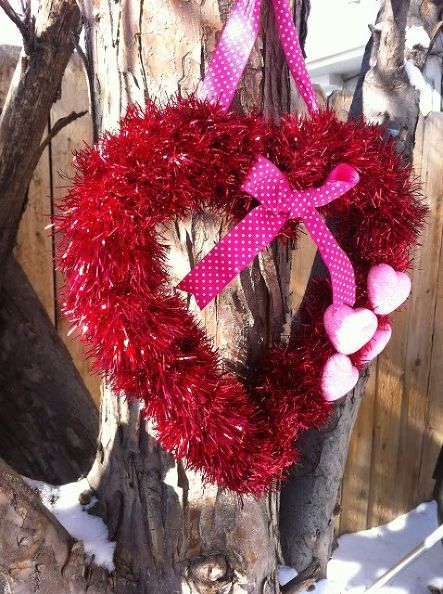 14. Umbrella floral Wreath (Source: randomthoughtsfromanincoherentmind.blogspot)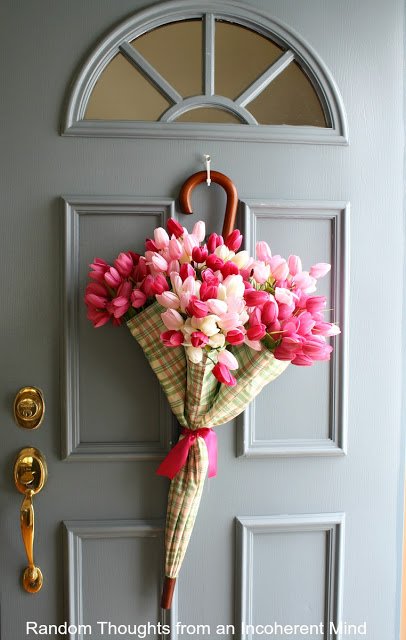 15. Coffee filter wreath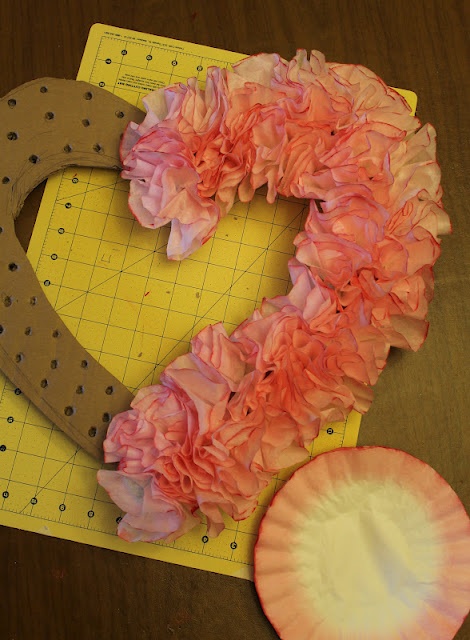 A fun heart shaped Valentine's Wreath with Coffee Filters. (Tutorial: bye bye soccer mom blogspot)
16. Pom pom valentines day wreath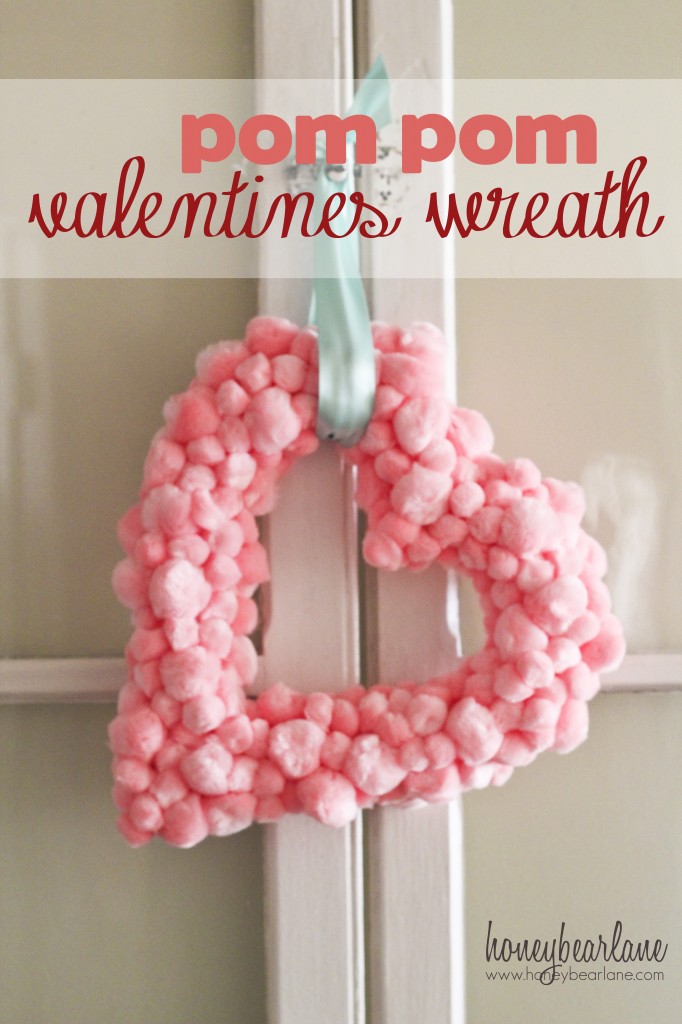 17. Tulle Heart Wreath (Tutorial: iheartdecorating.blogspot)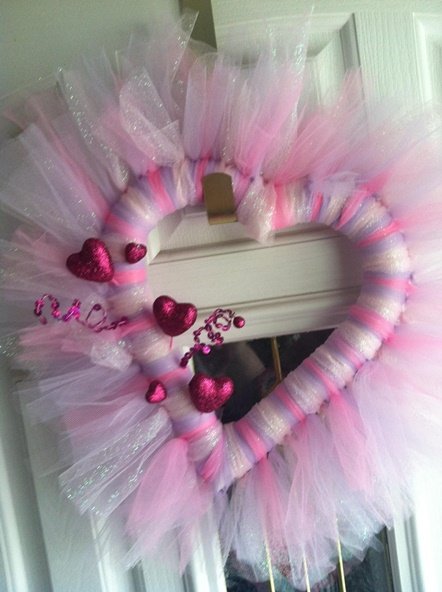 18. Easy Peasy Table scatter heart wreath (Tutorial: brown sugar toast)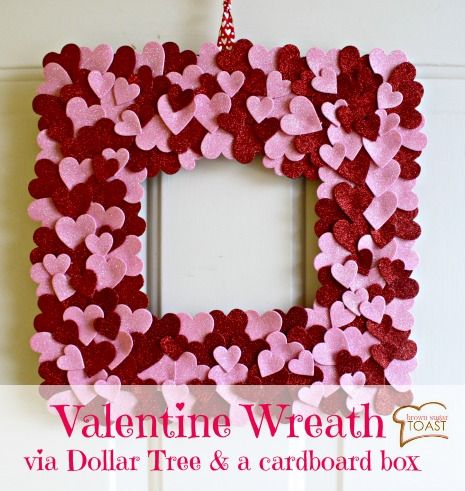 19. Funky Wood Heart Door Hanger (Tutorial: burton avenue)