I really like the idea of this vertically adhesive pot planter, it's good to use in small sized backyard, or balcony, and most of all, it can water from top while feeding birds. This vertical Stenciled Flower Pots is another fabulous DIY project! I have a fabulous list of Terra Cotta Clay Pot DIY Projects for Your Garden, among which the ombre painting with this similar idea makes it even more gorgeous and it is easy to make for small space gardening.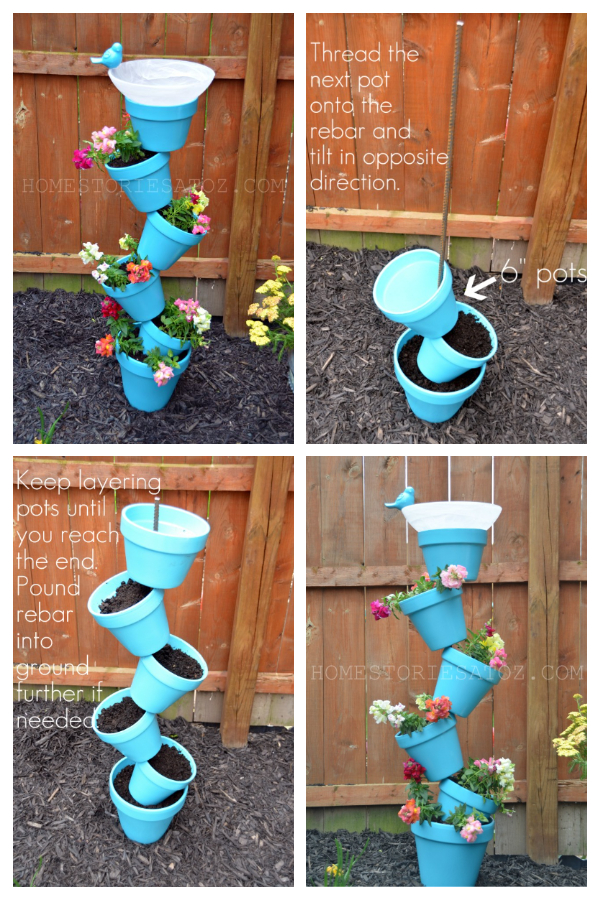 Originally the top was a Materials:
6 terracotta pot
1 piece of rebar
Spray paint primer. (eg. Valspar primer.)
Spray paint in your color choice. (eg. Valspar in Exotic Sea.)
Discarded globe from "boob light".
DAP Household/Aquatic Adhesive
Check out more detailed step by step instructions via the link here: 
Clay pots serve a million and one purposes in the garden! It's so easy, affordable and enjoyable that you can get the kids involved in crafting, or perhaps have a group of friends chip in for an even faster result! Or You can beautify the whole garden with clay pots projects.