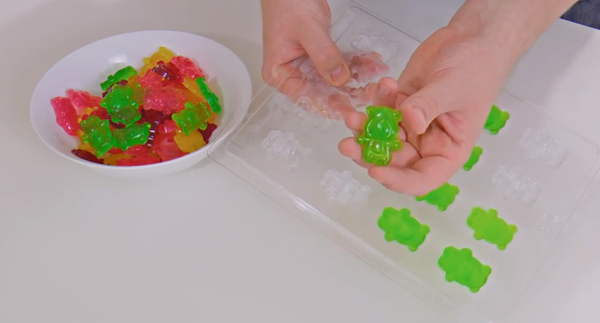 Gummy bears have been around since 1922, and it seems they've never really gone down in popularity; these treats have inspired many other gummy shapes, but most of us prefer to stick with the original trendsetters. They were actually invented by a German man named Hans Riegel, who left his job as a confectioner in Bonn to start his own company: Haribo. The name is an abbreviation of Hans Riegel from Bonn. The gummy bears were an instant hit, and became Haribo's claim to fame.  You will love to make your own homemade version of gummies like I do, with kids. It's a lot of fun and you can adjust the sugar yourself. (Kids love the sweets and parents do worry about their teeth at their age). Here's an easy recipe to make your very own gummies; and you get to break away from the mold by choosing your own 
Gummy Mold
in all shapes.
Ingridients you need is:
1/2 cup cold water
2 tablespoons (20g) plain unflavored gelatin
1 packet flavored gelatin or jelly/jello mix (85g)
Directions:
Combine the ingredients on the stove, let it heat up slowly for about 10 minutes so that everything dissolves and mixes well together.
Let it cool in a glass container and then pour the mixture into your mold. After 15 minutes in the freezer, you'll have your very own gummy candies.
And if you want to turn these into an adult party snack soak your gummies in vodka. Pour them into a container, pour over enough vodka so that they're all submerged, cover and leave in the fridge for three to five days. You will fall head-over-heels for the boozy 'drunken gummies' over at instructables. Find them HERE.
Here's the video… Enjoy!