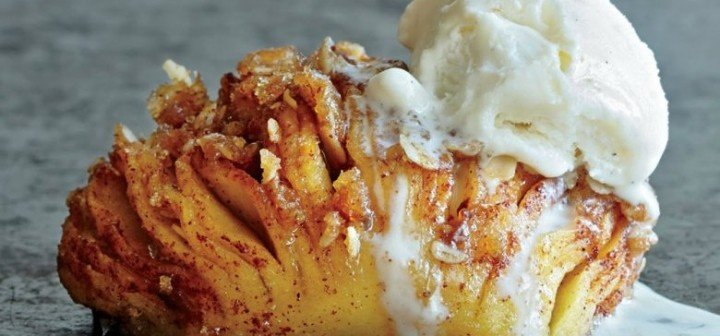 Are you feeling the breeze of Autumn in the air? While we are still in the later Summer, there is one thing we're looking forward in the coming season: fresh apples! Apple juice, apple pie, apple crisps,
apple roses
,
apple fries
. Now there's a new dish so creative and tempting from
Cooking Light
– Hassle back baked apples!! We learned
hassle back potatoes
before, and this hassle back apple may be the best of the apple recipes after watching this fabulous video.
You'll Need:
2 large, firm apples (Cooking Light recommends Pink Lady or Honeycrisp)
Cooking spray
4 tablespoons brown sugar, divided
2 1/2 tablespoons butter, melted and divided
3/4 teaspoon ground cinnamon, divided
2 tablespoons old-fashioned rolled oats
1 teaspoon all-purpose flour
1/4 teaspoon kosher salt
1 1/2 cups low-fat vanilla ice cream
Watch the video to see how this twist on traditional baked apples comes together, then get your printable recipe over on Cooking Light.