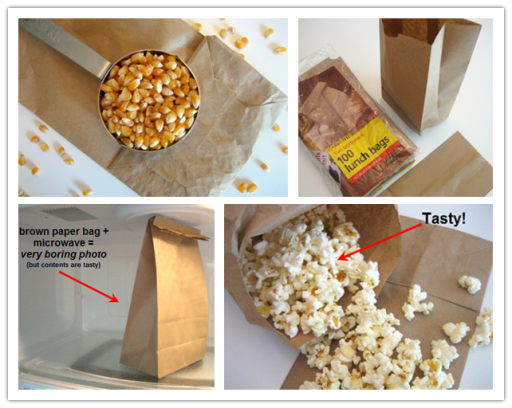 This tutorial came in just in time! Now you can make your own popcorn at home easily with this incredibly simple way. The key supply you need are popcorn and a brown paper lunch bag. Put the popcorn and other ingridients in the paper bag, and microwave for three minutes and your snack is ready to go.You can full tutorial at Squakfox… Can't wait to make for the game night?!
Image via: DIY Tag
Try these toppings for some gourmet popcorn fun:
Mexican: Add chili powder, hot sauce, and salt.
Kiss My Breath: Shake in onion powder and garlic powder — hold the kiss.
Cheese Please: Mix in Parmesan cheese with a little salt.
Sweet Tooth: A dash of cinnamon, a sprinkle of sugar, and a topper of honey. Now that's money.
Classic: A shake of salt with a pat of butter.