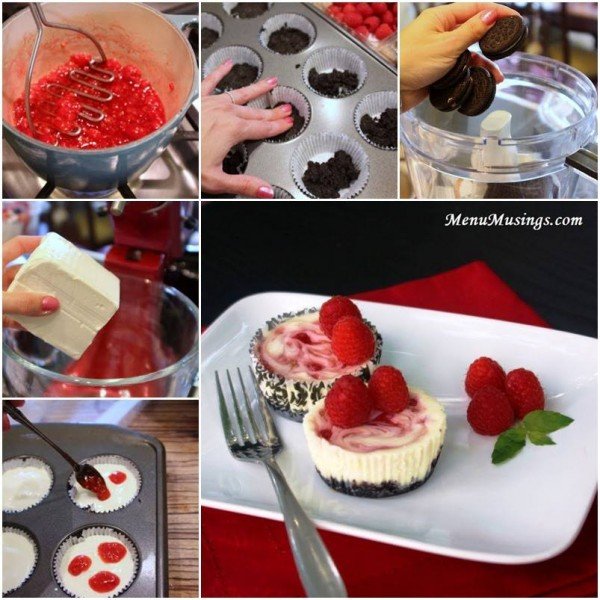 These adorable Raspberry Swirl Cheesecake Minis, which tops off crunchy crust of crushed Oreo-chocolate sandwich cookies and creamy cheesecake filling swirled with homemade raspberry sauce, will be just the ticket to end your meal on a sweet note without blowing your entire diet! They look so pretty and yummy, will definitely make you drool.
Ingredients: (for 1 dozen)
Crust:
1 cup chocolate cookie crumbs about 13 chocolate sandwich cookies
1 Tbsp granulated sugar
5 Tbsp melted butter
Raspberry Sauce
6 oz (a slightly rounded cup)fresh raspberries
3 Tbsp granulated sugar
1 tsp corn starch
Fillings
2 (8oz) blocks of full fat cream cheese, room temperature
2/3 cup granulated sugar
1/8 tsp table salt
1 tsp vanilla
1/2 tsp lemon zest (about 1 lemon)
2 large eggs, room temperature
1/2 cup full fat sour cream, room temperature
Directions: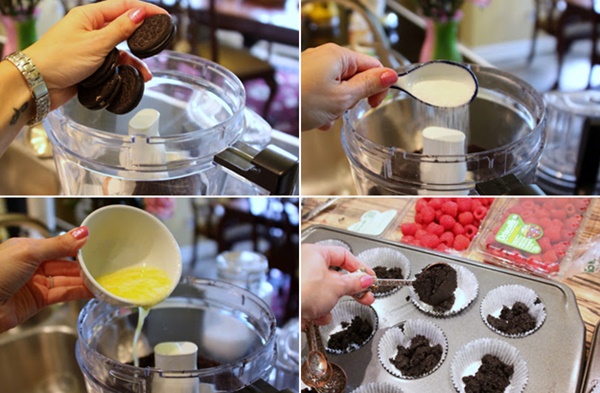 Mix all ingredients until they resemble wet sand. Press 1 Tbsp of the cookie crust into each cupcake liner. Press the crust down with your fingers. Cover the entire pan and place in the refrigerator to harden.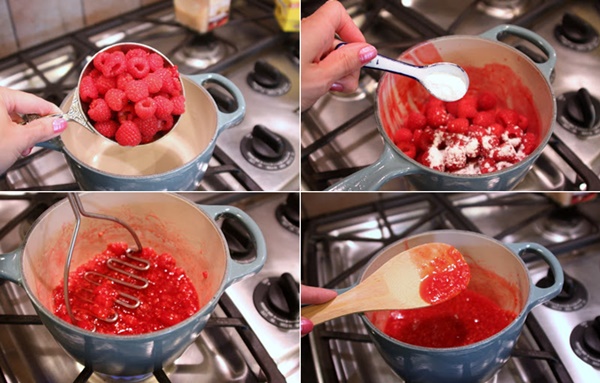 Mix all ingredients in a cold saucepan, and heat until bubbling, then mash.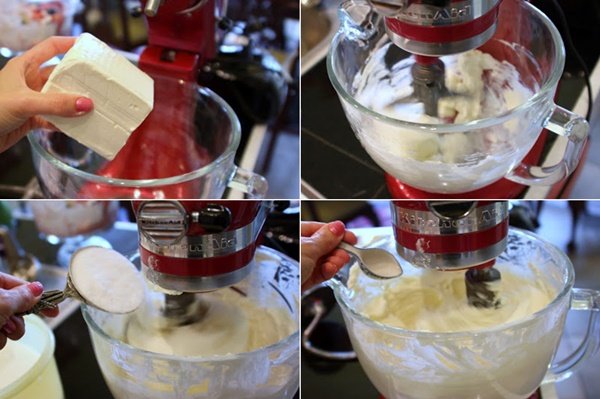 Mix all room temperature ingredients in a stand mixer.
Then bake on 300 F for 18-22 minutes. The center should still be a little bit "jiggly" and still slightly moist looking. Remove and allow them to cool. Cover and refrigerate overnight or for several hours, voila!!
Read more of the full directions via the link here.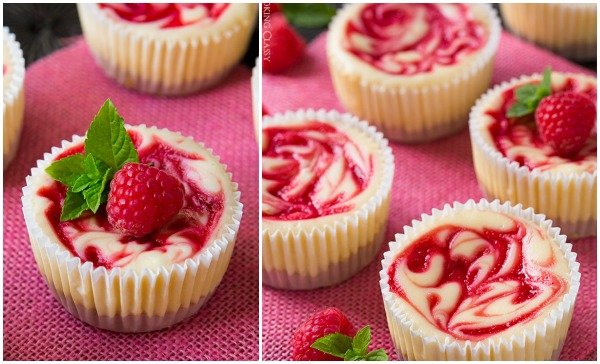 DIY Raspberry Swirl Cheesecake Via Cooking Classy