My friend's daughter got a new baby, yeah, and we went to see her. She is so happy being promoted to grandmother. And a lot of things come, taking care of her daughter and do some house chores, too. And she showed us around new her house, and came to a good question that How to clean all those stubborn water stains and soap skunks of her shower and shower glass door! It has formed a screen though she tried hard to brush or shower cleaners!! Well, same situation here, and I do need to find some solution!! Good there are always simple tips and tricks that can make these daily chores easy, and I found this magic Homemade Shower Cleaner Solution!! Tried by myself and this stuff really works! Just add one cup original blue Dawn and one cup of white vinegar to a microwavable bowl and heat in the microwave for 1 minute. Use a funnel to pour into a spray bottle. Give it a little shake and spray your shower doors and let sit for about 30 minutes or longer. Using a sponge, give the shower doors a little scrub followed by a quick rinse and see your shower doors shine! You can also use this Super Dawn & Vinegar cleaner on your tub, too.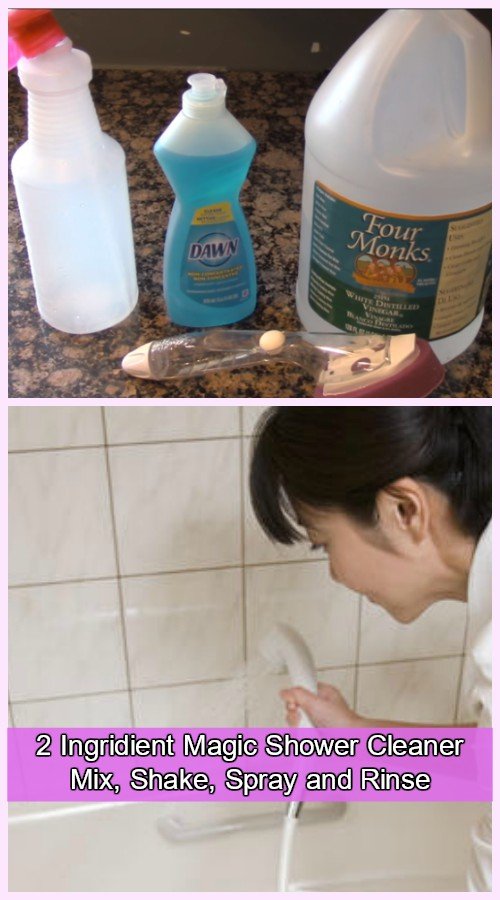 Click the link here for the recipe: Food.com – magic DIY tub and shower cleaning recipe
You can also microwave the mix before using. And be sure to scroll down to see how to clean the toilet, drain and more with link at bottom.
Video: Maria Cisneros Toth
Charlene from my frugal adventures shares a good article on cleaning everything else in your bathroom, be sure to check it out: