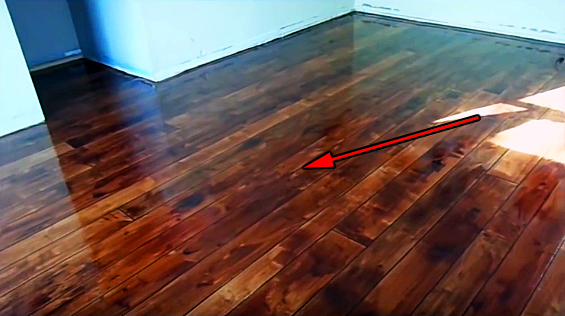 It's often the case to remodel or upgrade your home with hardwood floor after getting tired of the carpet cleaning or moving into new house. Wood floors are beautiful and come in many different styles, colors, finishes, and grains. Even the Pergo will cost you much due to the high labor expense (unless you do it all by yourself), not mention the maintenance after installation.  turn your existing.
There is a much cheaper alternative – concrete flooring that most of our home exists, and we can instantly upgrade a classic concrete floor into gorgeous simulated Hardwood flooring! This type of texture is great for patios, sidewalks, walk ways, patios, and even inside your home!
With a few extra steps you can take your ugly dull concrete floor and transform it into a rich, warmly textured, glowing hardwood-looking surface. The design is called wood concrete and this video from decorative concrete king shows all the main stages of such a floor being installed from start to finish.
The video description says that the process isn't too difficult to do, so long as you have the right products and techniques. In comparison to hardwood, concrete stands up much better to water, animals, kids, and all the scratching and wear and tear that comes with them, and it costs less.
Check out the video to see how: