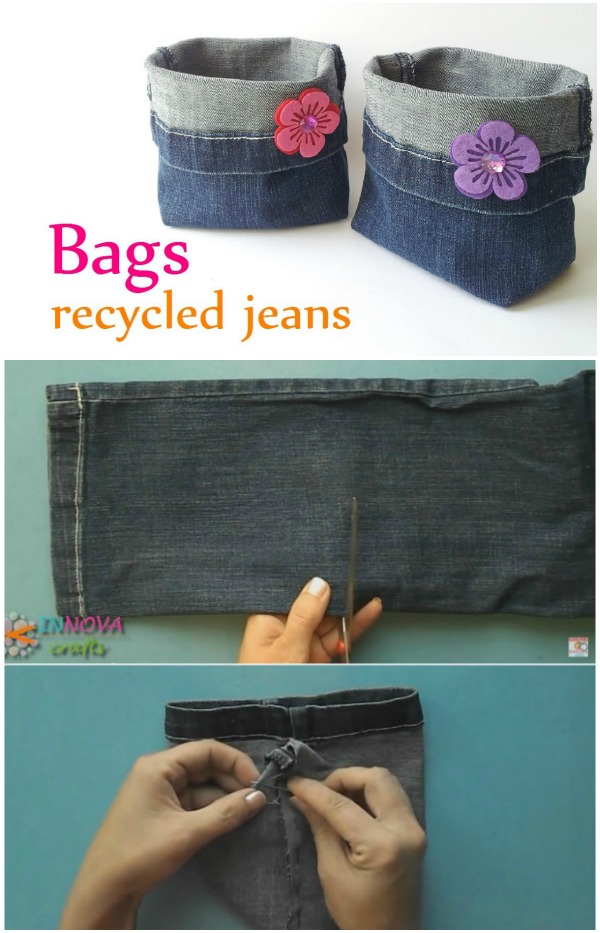 There are a lot of cool ways that you can repurpose old jeans as we have featured to
refashion old jeans into new styles
or to them into
a cute apron
for example. and the best part is, you'll still have some material left over to make an adorable little denim bag or purse for little girls as desk organizer, or decoration, or planter bag. Check out the super simple way to make jean bags via tutorial by 
Innova Crafts
. – A beginner's guide to sew as start.
All supplies you will need:
A Pair of jeans
Scissors
Sewing thread
Embellishments
Directions:
Snip off the bottom part of the leg – where you cut all depends on how deep you want your bag to be.
Then flip the piece of material inside-out and sew the cut part closed. Sew the two inside corners to make it stand upright on its own.
Then flip it the right way, super easy?!
These can be used for storage in  room, or you can simply sew on a strap from either the same pair of jeans or a different piece of fabric so that she gets a cute little purse. You can even add belts to make a snack bag as following: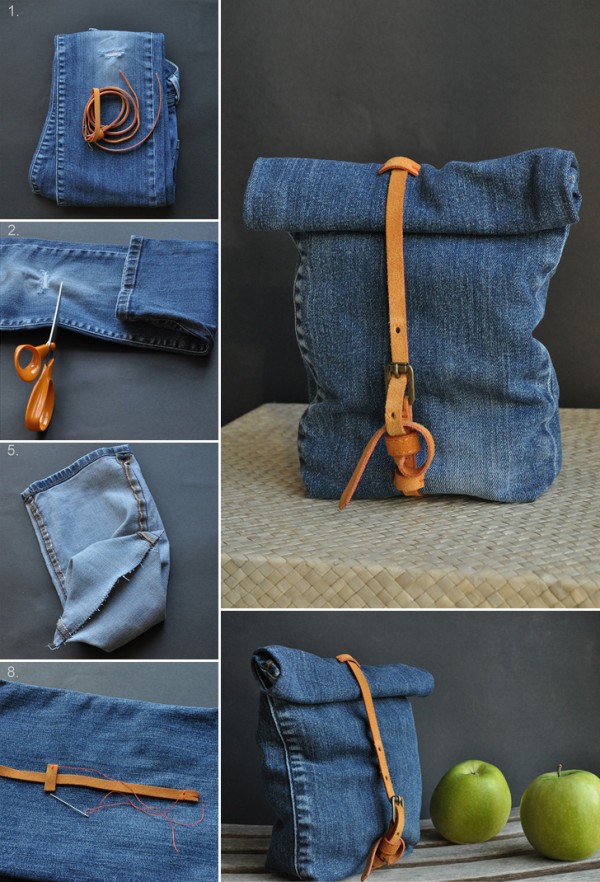 This project is useful for replacing the brown paper bag that you use for your kid or your husband's snack, or maybe for depositing your make-up, while it can also hold the cell phone loaders and adapters you need to take with when traveling. It is a simple project as long as it is half-done since you have the side seams already made.
You will need:
– an old pair of straight leg jeans;
– old belt;
– needle and thread;
– sewing machine (this is optional since you can sew by hand).
Directions:
Cut about 40 cm above the hem of the pants leg. Take the belt, and cut 10 cm measuring from the belt, and keep it attached, next, start measuring 40 cm from the other end of the belt (holes section), and out of what remains, cut out two strips of about 3 cm each. Back the pant leg inside out. The hem of the pant leg willl become the top of your bag, and you just have to close the other part. Fixate the buckle part of the belt right in the middle of your bag and close with a stitch. Now, make the boxed corners and secure with two more seams. Attach the other end of your belt on the middle back side of your bag and stitch it a few times. Fixate also the short strips and secure by stitching. Hope you find it useful and easy to make! Enjoy!