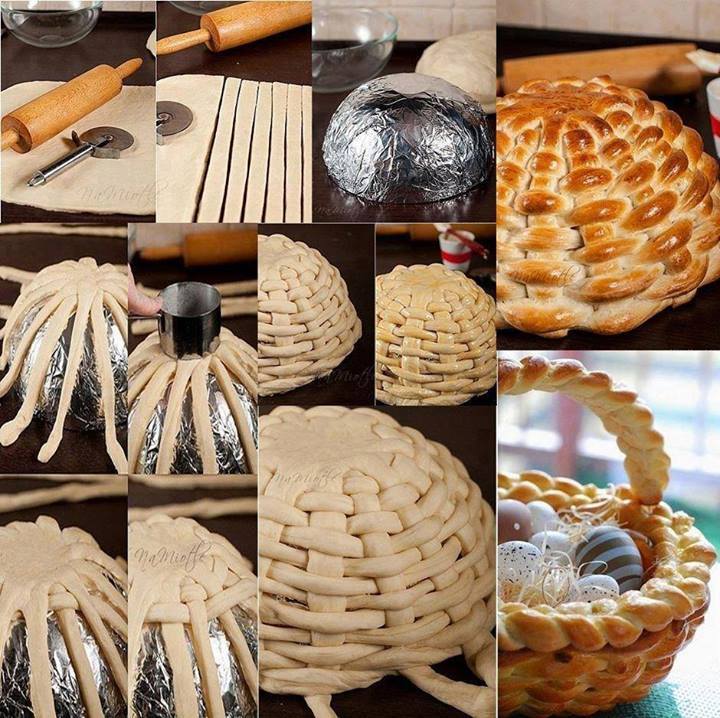 It is really fun to apply braiding technique into bakery, fun and cute to make this bread basket.You can serve all the Easter eggs and desserts in this big and edible bread bowl, or make several small ones around, cool?
Directions:
Preparing bread dough: Mix flour, yeast, sugar, and salt, then add water and half of the beaten egg. Mix again. Then add butter and whipper until smooth and elastic.
Cover the dough and let rise in a warm place for about 30 minutes.
punch the dough down and make a round ball and allow to rise for another 10 minutes.
Now take the ball and roll out with a rolling pin until you get a large square about 11 x 11 inch and 1/8 thick.
Cut the dough into strips at 1/2 inch width.
Weave your lattice design on a piece of oiled parchment paper.
Lightly grease the top of the 7 inch diameter metal bowl (use butter or cooking spray).
Now transfer the paper with the latticed dough into the metal bowl. Trim any excess dough.
Place the remaining 1/2 inch width long strips around the edge (rim) of the dough basket.
Now place bowl on a greased baking tray and allow to rise for 35 minutes. Brush the remaining beaten egg over the basket.
Bake at 200C for 20 minutes. Be sure to check if the bread is getting brown in around 15 minutes (if basket is browning too quickly cover the top with foil)
When basket is completely golden brown remove from oven. Cool down and remove bread basket from the bowl.