What is the possible vegetable waste in your kitchen? Mine is potato, with all the sprouts growing already in the bag, and little space to grow! Time to use the remaining space more efficiently in the backyard! If you have a sunny corner, just two feet by two feet, that's all the space you need! Instead of the typical mounded rows that take up a lot of real estate in the garden, try planting potatoes in a tower. It will take some planning, but the payoff will be worth it. With all these DIY solutions out there, having your own garden in the balcony is very simple. One way to accomplish this is through the vertical handmade small garden suitable for growing 100 pounds of potatoes. Remember that each layer which you plant must have its sides boarded up. Now, let them grow a bit. When the vines reach some 12 inches above the soil, it's time to add another set of boards and fill the space with dirt. Make sure you don't cover more than a third of the plant. Do the same for each layer until you finish the box. In order to harvest your potatoes, take out the screws from the bottom board. With your hands reach in the box and grab your potatoes. Replace boards and soil and the layer is good to go again. I also shared 3 videos to grow potatoes from tradition to water savvy to alternatives of this wooden box you can easily find at hand. Let's experiment them all!
You may love: Foods To Regrow From Kitchen Scrap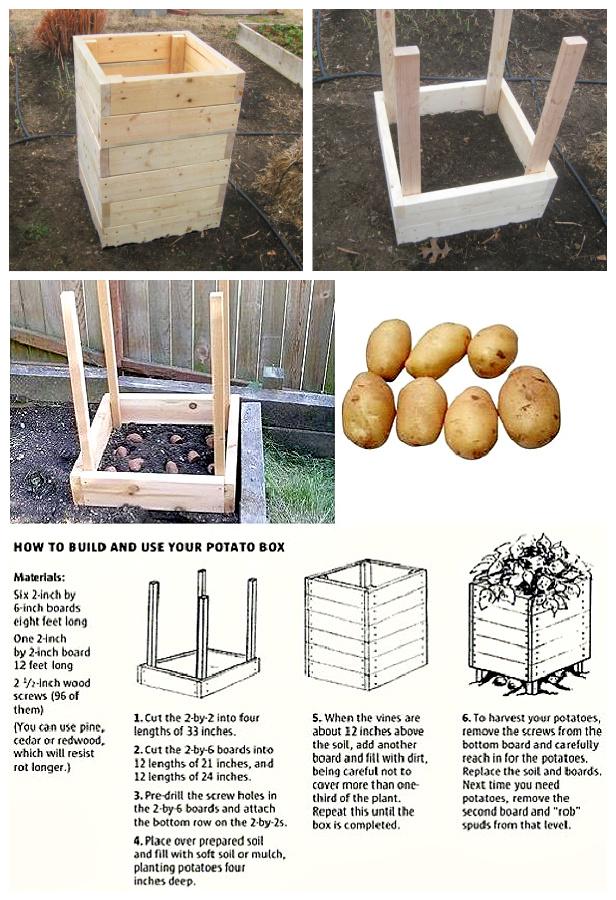 If you have pretty large backyard with raised garden bed, this is the traditional way to plant the potatoes.
The following video has loads of potato tips and potato hacks so that you can get the best results from growing potatoes in containers or buckets, esp the tip of adding wood chips around to save your water bills.
You can definitely find other vertical potato gardening method such as the gardening bag, the bucket, clothes hamper or even your unwanted end table!