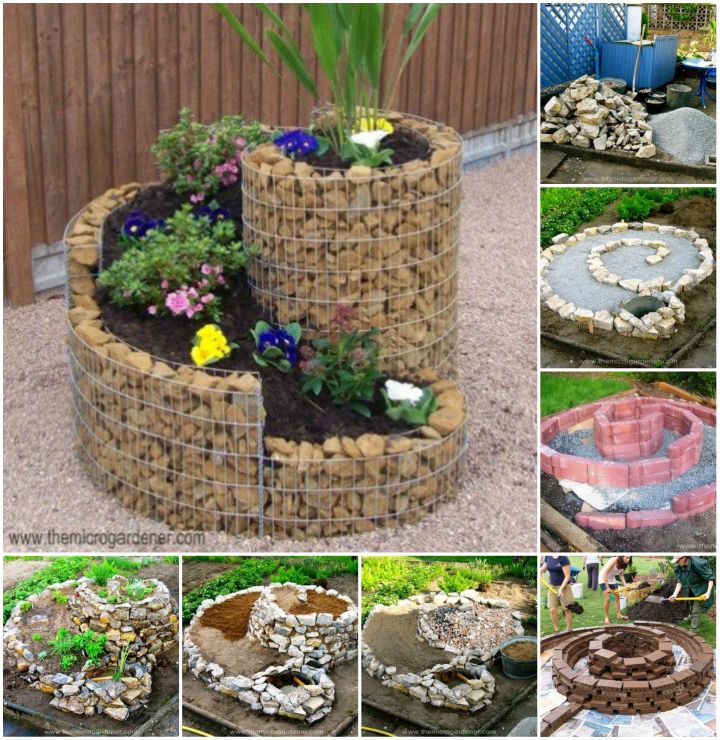 The most practical way to plant herbs in a limited space is by making a vertical garden. This spiral garden design is perfectly productive and energy efficient. It lets you pile plants and maximize limited spaces.
Materials you need for this herb spiral garden:
Weed mat or gravel
Long stake
Homemade compost
Organic matter
Mulch
Herb seedling
Rock minerals
Determine how large your spiral garden and how you will make the spiral pattern. You need to prevent weeds from thriving so cover the area with cardboard.
start construction the wall by laying bricks to make the spiral frame. Continue layering the materials until you get your desired height for the spiral garden. Remember that the top part of the layered wall must be higher to form a slope.
When the wall is secured, add the organic materials and the soil before you position the herb seedlings. In a matter of several days the seedling should start to grow.
If you wanna learn more about the constructions of your mini spiral garden, you can check the original tutorial shared by Ms Anna Gibson.
Do you want to DIY a spiral garden yourself, you can even check the detailed tutorial via Youtube:
This is really a big spring must do project for those homes with small patch for planting. It is pretty to look and functional where you can sit and entertain with this green scene. If you want to give a try at your backyard.