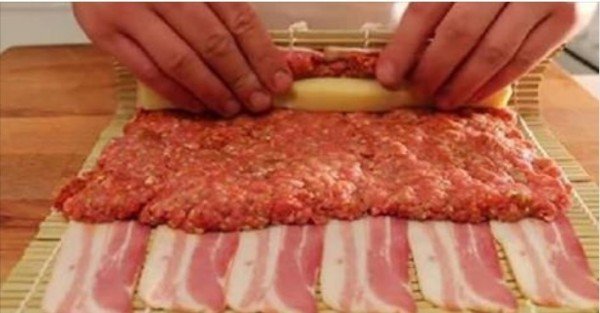 He Rolls Beef And Cheese Into Bacon. The Result? I Can't Stop DROOLING!
Bacon is delicious and, despite popular belief, it is also nutritious. Kids and adults of all ages love it, either wrapped with veggies or shrimp or whatever you can invent. Whoever decided to start using bacon as a garnish on cupcakes is a genius! The bacon invention with beef and cheese wrapped in the Sushi way shown in the video below is simply astounding. This meat-loving chef has created a roll he calls the Moink Roll. Using ground beef, cheese and bacon to make a barbecue Sushi Roll that's sure to satisfy meat lovers everywhere and be a hit at parties!
Watch the video below and try this simple, delicious recipe, which is sure to be the piggy emperor of any potluck. Enjoy~

Ingredients for two rolls:
12 Slices of Bacon
500g Minced beef
BBQ Rub
2 Sticks of Emmental-type cheese
BBQ sauce
Pickled jalapenos
Roasted onions
Crumbled nachos
Instructions:
Put 6 bacon slices on a sushi rolling mat, season the minced beef with your favorite BBQ rub and apply a thin layer of meat on the bacon.
Place a cheese stick on the meat, roll it up tightly and prepare your Barbecue for indirect heat. Put the Moink-Rolls on an indirect zone of the grill, close the lid and cook for about 35 minutes at 180°C / 356°F.
Glaze the Moink-Rolls after 25 minutes with a BBQ sauce of your choice and cook for another 10 minutes. Glaze again after 5 minutes.
Coat the ready cooked Moink Rolls with crumbled nachos and/or roasted onions and portion as desired.
Serve the Bacon Sushi with extra BBQ sauce and pickled jalapenos.