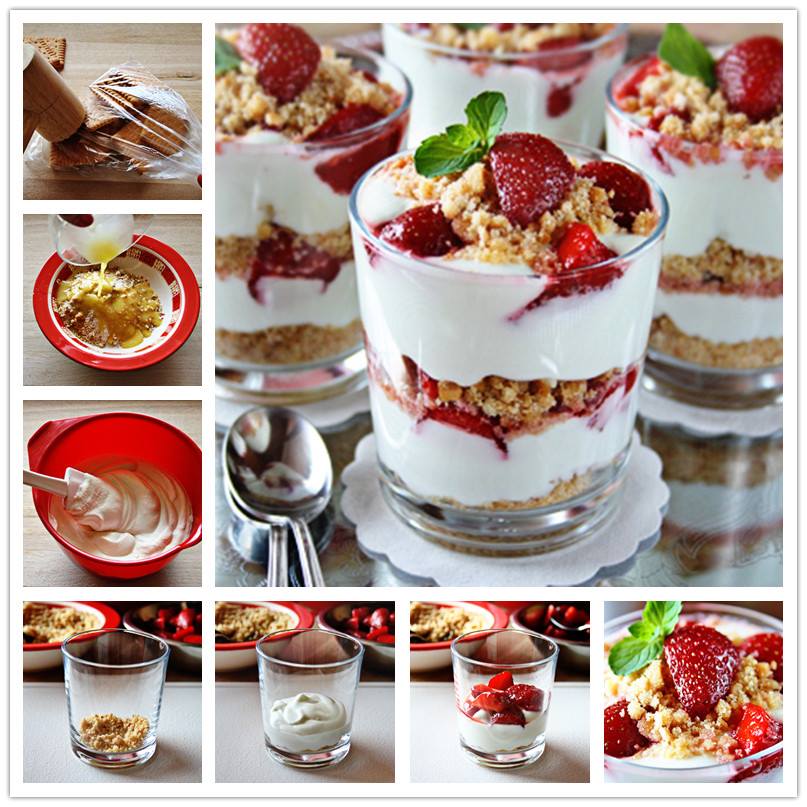 Strawberry Cheesecake Parfaits from
all day chic
, is ideal for a hot summer day to cool you down immediately. It is delicious and irresistible for all of us.
Ingredients:
1 pound (500 g) strawberries;
2 tablespoons sugar; divided;
1 cup (100 g) butter biscuits;
2 tablespoons (28 g) melted butter;
12 ounces (360 g) cream cheese;
1/2 cup (125 ml) sour cream;
2/3 cup (90 g) confectioners` sugar;
1 cup (250 ml) whipping cream;
1 teaspoon almond extract; mint leaves
Directions:
1. Firstly, crush the biscuits finely in the food processor;
2. Mix one tablespoon sugar and 2 tablespoons melted butter with the biscuits crumbs.
3. Then, mix the cream cheese, sour cream, sugar and almond extract;
4. In a separate bowl, whip the heavy cream before stiff peaks form;
5. Using a spatula, delicately fold the cream cheese mixture with the whipped cream just before combined;
6. Slice the strawberries into a larger bowl, sprinkle them with a tablespoon of sugar and toss them around the bowl a little;
7. Place about a tablespoon of the crumbs in the bottom of your glasses (you will need 4 glasses);
8. Layer some of the cheesecake filling, then add some strawberries and repeat this procedure once more.
9. Sprinkle the top with some more crumbs and garnish with strawberries and a mint leaf.
10. Refrigerate for about 1-2 hours until serving.