We may feel so spacious when you get into a house with high ceiling, but sometimes we just feel it kind of waste and want to expand these areas, but give up finally to avoid all the procedures of applying for remodeling certificate. This is exactly what happens to my house. If we can make full use of and utilize the space at our high ceiling, we may have another big room for kids on the second floor, and save the air conditioning fees downstairs. That's why I love the idea this couple figured out to mount the wood frame over their stairs to get a new room for kids play as well as their own home office. If you want to explore more space out of your house, you may be interested to make use of your downstairs spaces with these DIY Kids Playhouse Ideas (with tutorial)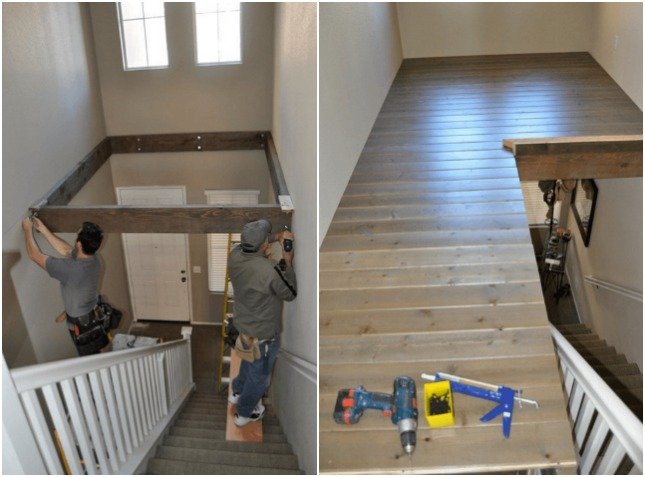 This homeowner, under the help with his handy father-in-law, built the loft by adding a rectangle wood on the wall, and another 2 beams to make "L" shaped frame, and add hardwood to make their extra room just over the space of their stairs of the townhouse. It is super efficient to add extra room to current limited room of townhouse as most of townhouse now seams have the same design with stairs just at the entryway with high ceilings, it required little work than paying for a contractor to do all the work. Clever.  See below before and after photos of the big transformation.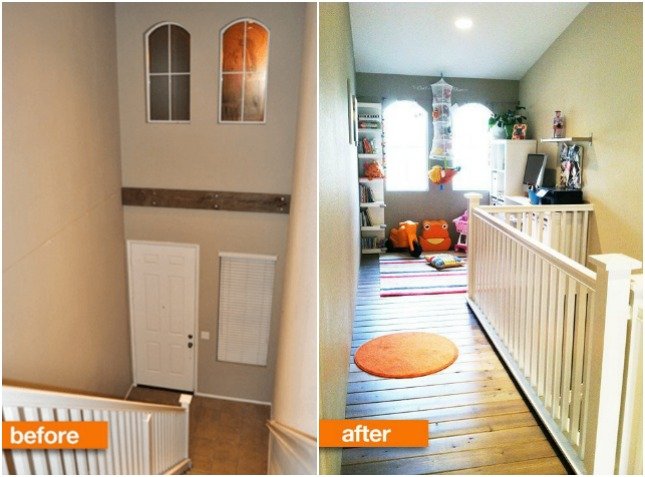 The extra space after adding railing become an extra work space as well as kids playroom, with the perfect use of windows, enough room for toys and a fun play area, while one side is dedicated to storage and a great office with bookshelf, computer and printer.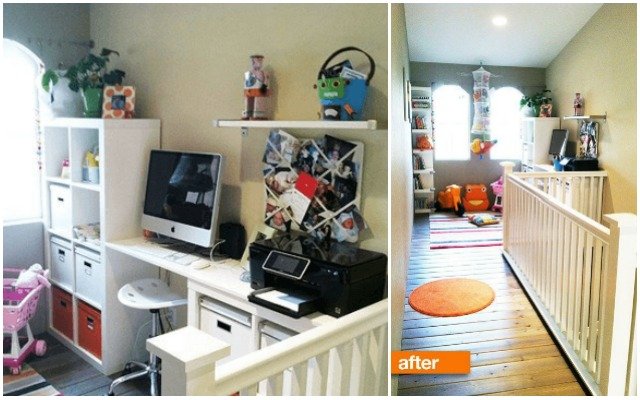 The completed project makes it seem like the house was made to look like this. You can check out the complete project via apartment therapy below.