If you are still looking for ideas of how to decorate your home for Halloween, here are some creative way of making Halloween decorations at lowest cost by using trash bags. You can make decorations from black bags or white bags. Black bags are for spiders or bats and white bags are for ghosts. Also you can make black wreaths for your front door. The results are very creepy. Don't hesitate to check out our fabulous collection of easy to DIY Halloween decorating list and so many Halloween decoration ideas and party treats that you won't miss, just click the link and you will get inspired for your Halloween party more exciting this year. And The party snacks and treats and the ghosty lollipop design are just fun and spooky for any kids party.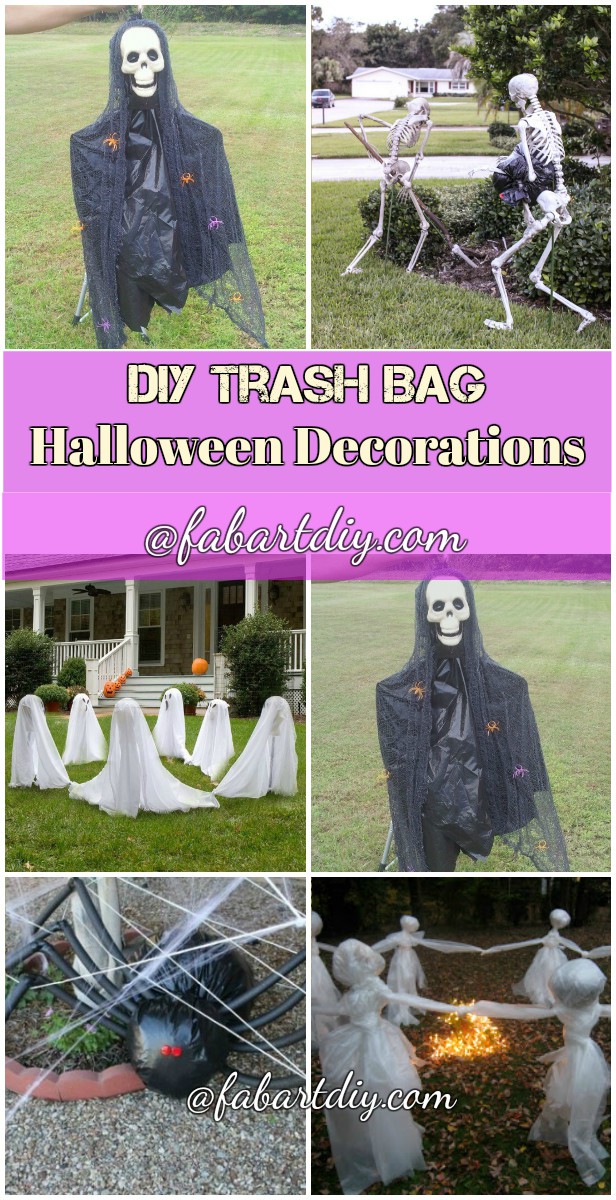 1. Hanging skeleton: dollar tree skull, creepy cloth, black trash bag and plastic spider ring, hot glue and a wire hanger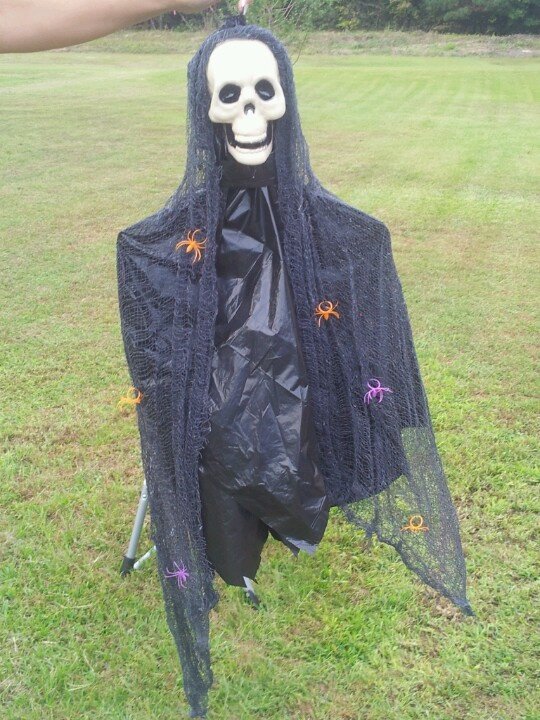 2. Corpse: With garbage bags, string, and newspaper, you can make a cheap decoration that looks like a human corpse. So creepy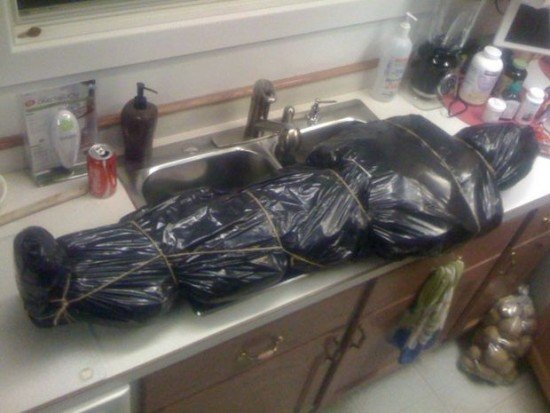 via Instructables
3.  Trash Bag Skeleton Lawn Decor: The most creepest way to use skeleton for landscaping during Halloween season.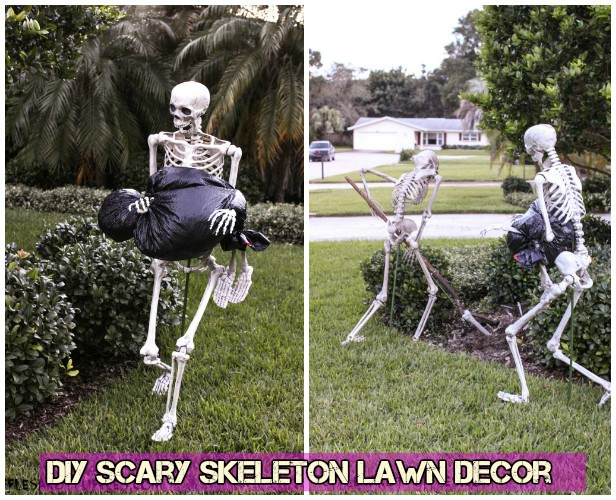 3. A Circle of Ghosts: White garbage bags, a sharpie, and some posts in the ground are all that is needed to make this circle of ghosts on your front lawn. They're tied at the bottom together to give it that floating look.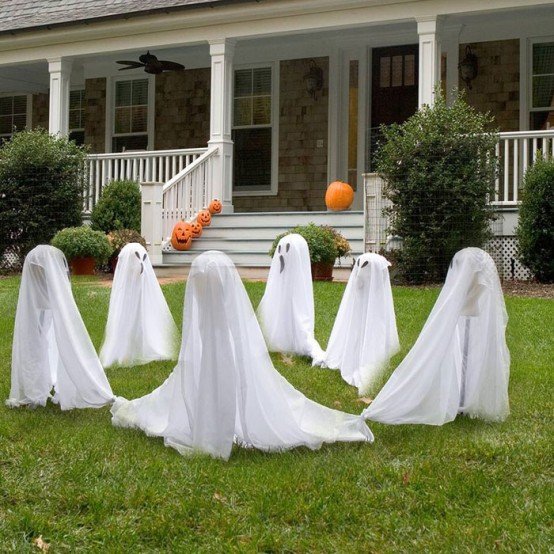 via digsdigs.
Flying Ghosts: Have these around your yard and when the wind blows you'll have flying ghosts. All it takes is a small white kitchen garbage bag, a Styrofoam ball, and a coat hanger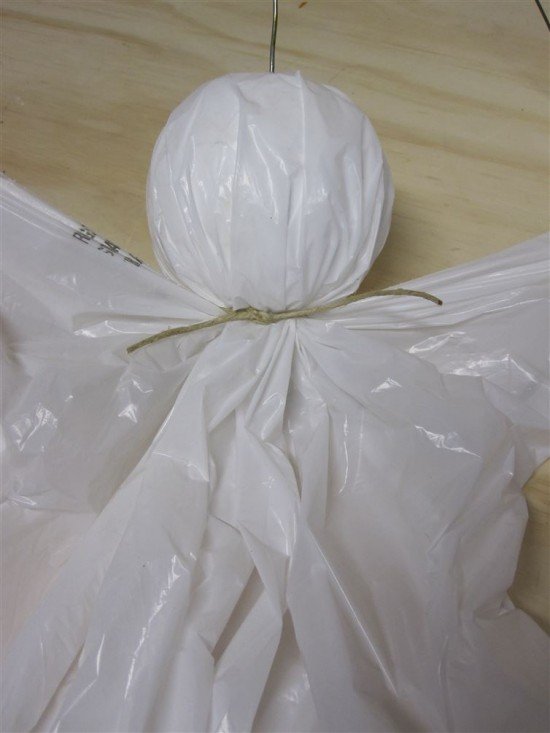 via Scary Dad.
4. Garland: Use trash bags across your walls and dollar store decor to accent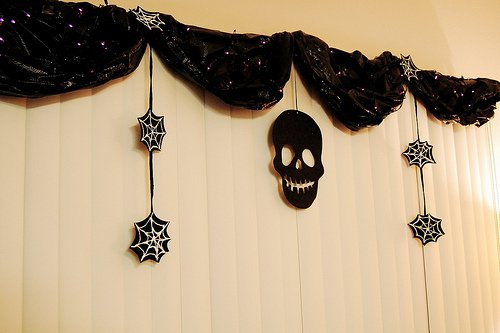 via flickr / Swelldesign.
5. Giant Spider: This takes a little more time and effort than the other ones featured here, but having a giant creepy spider in your front yard just might make it worth it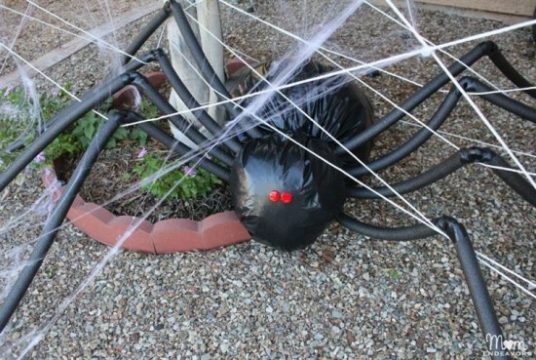 via Mom Endeavours.