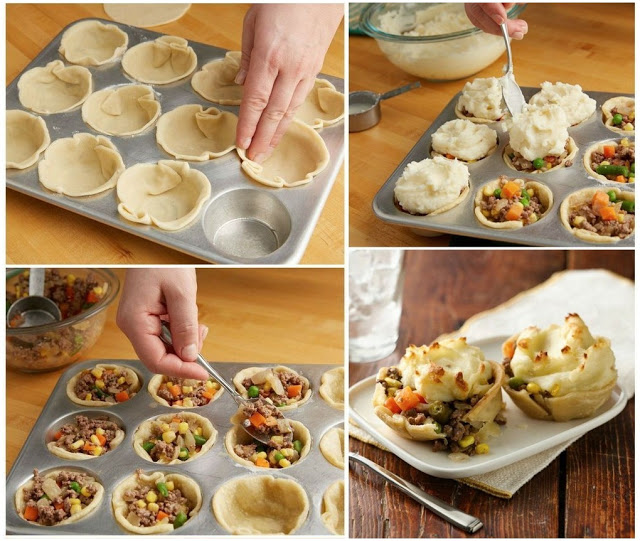 These Mini shepherd's pies are sure to be a new family favorite recipe! Use purchased or leftover mashed potatoes for a quick and easy meal. You can buy Pillsbury refrigerated pie crusts directly or make dough yourself, change the stuff into your favorite mix and bake for a quick meal service for busy or lazy days.
How to:
Heat oven to 400°F.

Unroll pie crusts. Roll each crust to 12 inches in diameter. Using 4-inch round cutter, cut 6 rounds from each crust. Firmly press each round in bottom and up side of each of 12 ungreased regular-size muffin cups. Bake 7 to 10 minutes or until lightly browned. Remove from oven. Reduce heat to 350°F.

In small microwavable bowl, microwave frozen vegetables and 2 teaspoons water tightly covered with plastic wrap on High 3 minutes; set aside.

In 8-inch nonstick skillet, heat butter over medium heat until melted and hot. Add onion to skillet; cook, stirring frequently, until onions are translucent, 3 to 5 minutes. Add beef to skillet; cook 5 to 7 minutes longer, stirring to break up any large pieces; drain. Add broth, salt and pepper. Cook 3 to 5 minutes longer or until mixture is hot and liquid is absorbed. Stir in vegetables.

Fill each muffin cup with 1/4 cup beef mixture. Top each pie with about 1/4 cup of the warm mashed potatoes. Bake at 350°F 25 to 30 minutes or until crusts are golden brown and mashed potatoes are lightly browned. Let stand 10 minutes in pan before serving. Run knife around outside of each pie to loosen before removing.
Check out the full recipe Via the link:
You may also love these personalized chicken and cheese mini pies are great for family dinner or parties of any occasion. They are baked with muffin tray which make the whole cooking process easy. You can even fry with oil to make it even tastier.