Drinking tea has a lot of benefits for health, green, red or black tea especially. I have friend living in the countryside, with tea garden, people there has whiter and glow skin and live longer life than average! And I am going to share a recipe of tea combined with cinnamon and turmeric to flush inflammation. You may have seen many wellness products using turmeric. I also shared a video to Whiten Your Teeth With Turmeric Naturally you can take a look. Turmeric is a flavorsome spice that is nutritious to consume, it has also traditionally been used in Chinese medicine to treat inflammatory conditions, skin diseases, wounds, digestive ailments, and liver conditions. These two ingredients plus green tea make for a nutritionally powerful drink, and it also tastes delicious! The cinnamon stick adds a natural sweetness to it and you don't need to add honey like a lot of recipes suggest. What I also found is that you can make Iced Tea with this recipe and it's actually really really good, too! Since all ingredients are natural, you can even add ginger if you have sore throat!
You may also love: DIY Braided Cinnamon Wreath to go with it.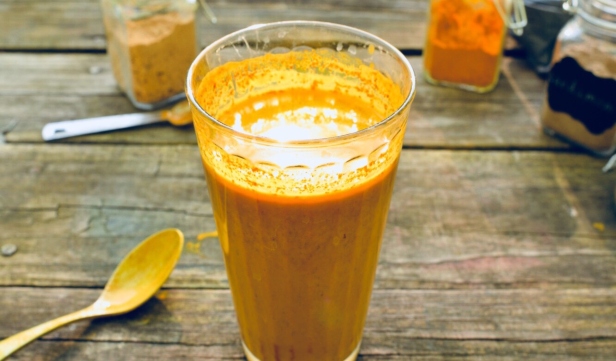 All the Ingredients You Need:
1-2 Tbsp. black or green loose leaf tea
1/4 tsp. cinnamon powder
1/8 tsp. turmeric powder
1 tsp.+ stevia, honey, or any type of sweetener you love
lemon slices (optional)
How to:
Add the tea, cinnamon, turmeric, and sweetener to the bottom of a french press.
Add hot water to about the halfway point of the french press and let steep for 3-5 minutes, stirring once, then press. Let the mixture cool off, and then add ice cubes to your cup.
Once it comes to room temperature, pour the tea into your mug and drink up!
I do recommend to drink from morning, it also helps detox your body and skin, and is a daily tea recipe you can drink on the go! Highly recommend.