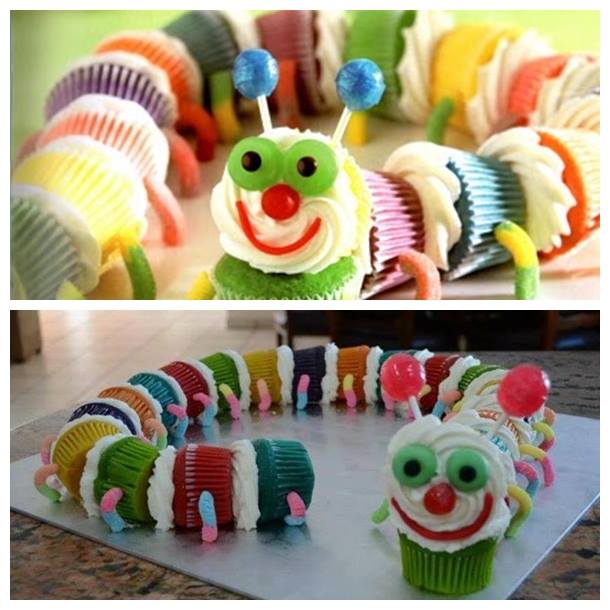 This colorful caterpillar cupcake is perfect for kid's party. A caterpillar design can accommodate any amount of cupcakes and can be customized with any specific colors. Cupcakes are a simple alternative to working with a cake. Their individual serving size and trouble-free cleanup make them an ideal dessert choice for kids. How about making a caterpillar centerpiece out of cupcakes for your kids birthday or school party next time? (The above one was made by '2 Savvy Sisters' (Blog removed) )

Ingredients
125 g butter,300 g flour,225 g white sugar,200 ml water,4 medium eggs,1 tbsp vanilla,2 tsp baking sod,1 tsp salt.
For the Frosting:
200 g butter,350 g icing sugar,2 tbsp whipping cream,1 pinch(es) salt,1 pinch(es) vanilla extract
For decoration:
Assorted candies, candy-coated chocolate pieces, red string licorice, lollipops, and gummy worms
Instructions:
1. Preheat oven to 170°C
2. Mix together the butter and the sugar with an electric mixer. Add the remaining ingredients and combine well.
3. Fill mixture into cupcakes and bake at 160°C for 15 minutes. Set aside to cool.
4. Frosting:
5 .Mix together the ingredients for the frosting.
6. Leave mixture in fridge for 20 minutes and then distribute the frosting on top of the cupcakes with a spatula or piping bag.
7. Frost cupcakes place one cupcake on its side towards the end of serving platter.
8. Place second cupcake on its side next to first cupcake, arrange remaining cupcakes.
9. Frost 1 reserved cupcake decorate with assorted candies, licorice and lollipops to create face and antennae.
10. Place plain cupcake upright at front of cupcake row for head, top with face cupcake on its side. Cut gummy worms into small pieces, attach to caterpillar body with frosting to create legs.