Add rustic decoration element with this DIY Rustic Twig Snowflake Ornament tutorial, easy and kids friendly. I have so many ways to make snowflakes, the salt dough snowflake is so pretty even for kids to make with cookie cutters. the pasta snowflake is another fun with kids. The hot glue snowflake is so beautiful looking that we can change to any shapes and add nail polishes or glitters for gift toppers or home decoration.We also have so many DIY Christmas ornaments with tutorials that you can check them out, and make with family. And these twig snowflake ornaments are so easy to make,  and it can be as simple or complex as you can create. so fab an idea to add a few original touches to your cozy and warm Christmas tree this year. The original tutorial was from Littlethingsbringsmiles Rustic Snowflake Tutorial, but for so reason, the link cannot work, now. Luckily the picture is clear and can explain the process well.
You may love: DIY Candy Cane Sleighs Christmas Gift Tutorials – Video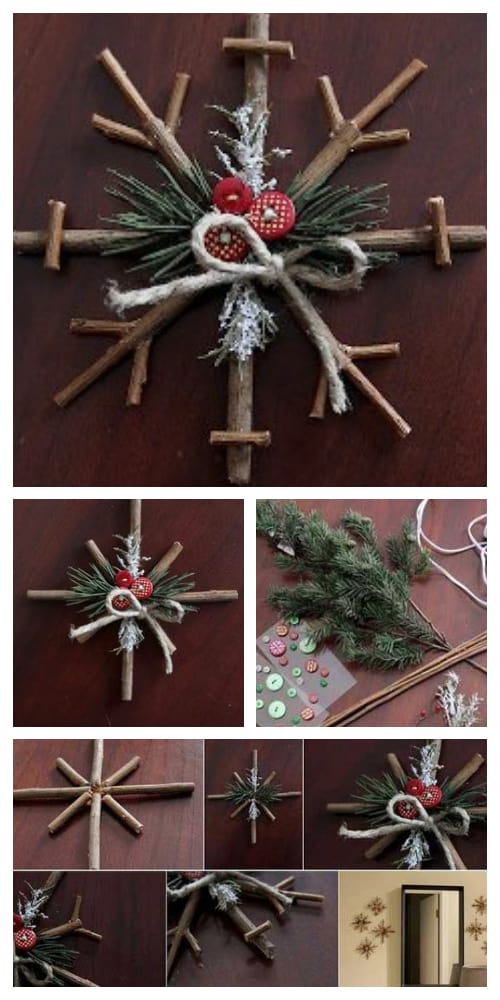 How to:
Cut the twigs into 4 long and 4 short ones in equal
Glue them at one end using hot glue in the shape of snowflake
Hot glue the evergreen leaves and add button and twine cord bow as decoration
Love the idea and I may change to use cinnamon stick to add holiday scent with this idea, fabulous, agree?
You May also love the salt dough ornament here: DIY Salt Dough Snowflake Ornament Tutorial