All kids love bunnies, especially when Spring is coming, which means Easter is driving near. I have a wide collection of bunny crafts, and I do recommend the Sock Bunny Projects Round Up that you can recycle those odd socks that your kids love. And another fabulous collection of Crochet Easter Bunny Projects Free Pattern. You will love this way to make knitted bunny from a knit (or crochet) square, and even any square towel or fabric. It makes it super easy by threading the square with a triangle and pull the thread after filling the center with poly fill. The bunny is adorable that you can use crochet square to make it fancier, perfect for kids toy delivery or home decoration. Have Fun!
You may love: Easy Finger Knitting Bunny Free Knitting Pattern-Video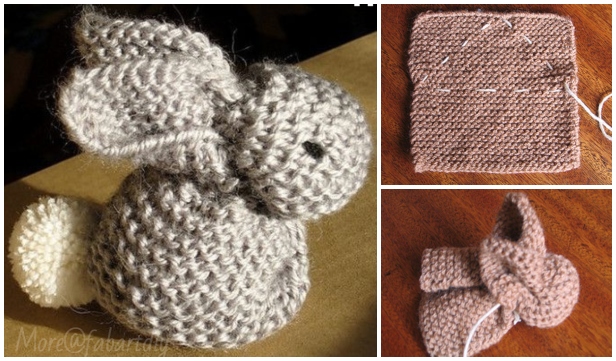 Supplies you need:
Yarn
Knitting needle
Embroidery needle
Embroidery thread
Stuffing
Scissors
Knitted Square Bunnies Guide:
Knit yourself a square of fabric or just but a sheet of fabric and cut out a square
Sew a triangle into the top half of the square as illustrated above
Pull the thread tight and push a pinch of soft stuffing into the fabric
Sew the body half of the bunny tightly shut and push in more stuffing
Sew the bottom of the bunny closed and make a fluffy pom-pom tale as described in the tutorial
It's really one of the easiest sewing projects to make the bunny softies as unique gifts for all your family and friends!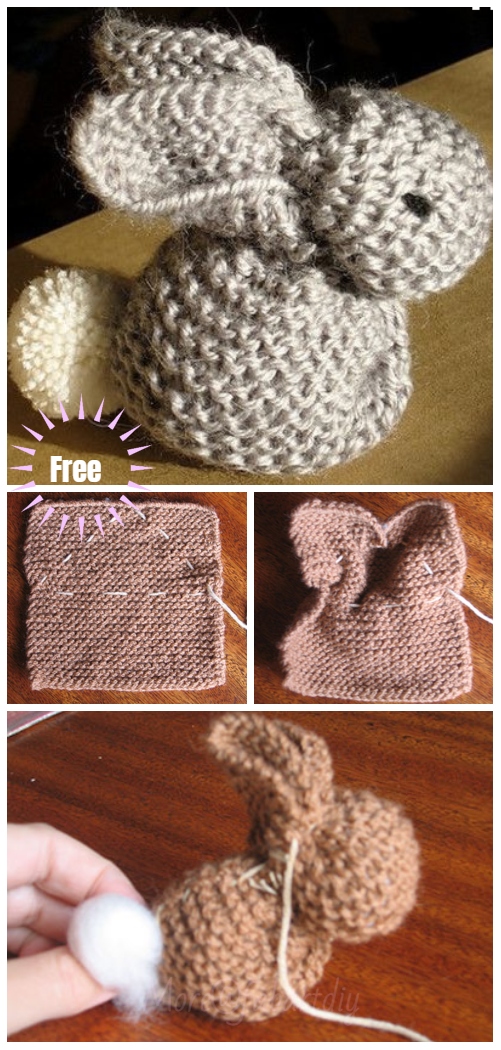 Check out the step by step tutorial via Jo So and Sew: Knitted Bunny from Single Square Free Pattern
We also have a good collection of bunny crafts  you can make easily: