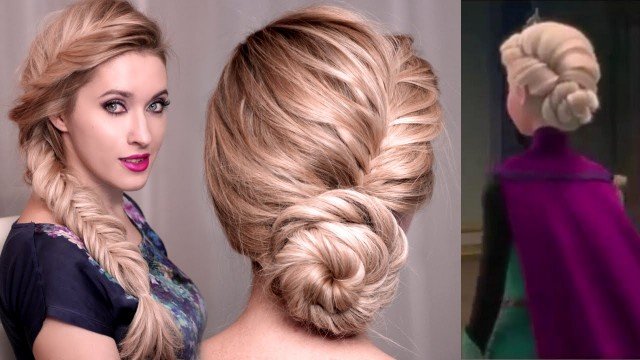 This Frozen Elsa Hairstyle is so gorgeous that I am so loo…ving it and cannot wait to try now this evening. Disney Frozen has billions of fans after ever its launching in 2013, and the team is growing. My girls are addicted to it, and me, too. If you love Elsa hairstyle, Lilith Moon
 presents to us fans another fabulous tutorial on how to make it yourself easily. It's a twisted updo, big messy fishtail braid and braided half up half down hairstyle.
Fishtail is an easy hair braid, one of my favorite to try on different hairstyles. This Elsa hairstyle updo is a perfect try, start from one side from top part of the hair, braid downwards till half up, tie the braid with elastic with left half down together. Wear it directly as casual half up half down daily, or we can go further to make Disney Frozen Elsa Hair Bun by twisting the 2 strands. These hairstyles are easy to do on your own hair, they are very flattering and picture perfect for any formal occasions and show off time in girls day.
Here is the video and enjoy.