She Hammers A Cookie Cutter Into A Pumpkin. The Result? A Huge Time Saver For Halloween. DIY Cookie Cutter Pumpkin Carving is an awesome way to cut the pumpkins in shapes you want for Halloween. We have so many Halloween decoration ideas and party treats that you won't miss, just click the link and you will get inspired for your Halloween party more exciting this year. The easy to DIY Halloween decorating list is an fabulous collection that you should definitely go check out. Carving pumpkins not simple as we thought to be, we usually spent hours to cut and clean the Pumpkins and decorate for the Halloween porch every year, especially the big ones. We need to clean the slimy guts inside, but we recommend to do that after cut the shapes you want. We has so many ways featured to cut the pumpkins, such as the Tinkerbell pumpkin carving, the electrical drill way of cutting which can save us all the time and efforts or show other beautiful ways of Fall pumpkin designs.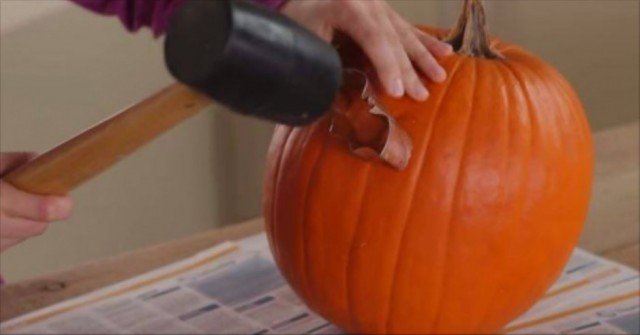 Better Homes and Gardens has a simple trick that will help us carve pumpkin in minutes. All we need  are a rubber mallet, some Halloween-themed cookie cutters (get all the spookie or fairy themed cookie cutters you can find on line or in store) and a little elbow grease. There's no limit to how creative you can get with this simple hack that will give you the most stylish pumpkin on the block. Let's see how easy it can be done:
Video: Better Home and Garden Channel
You can also bring fairy tales into reality with the Tinkerbell Pumpkins, there are tips and tricks to make your pumpkin carving easier than you used to be.